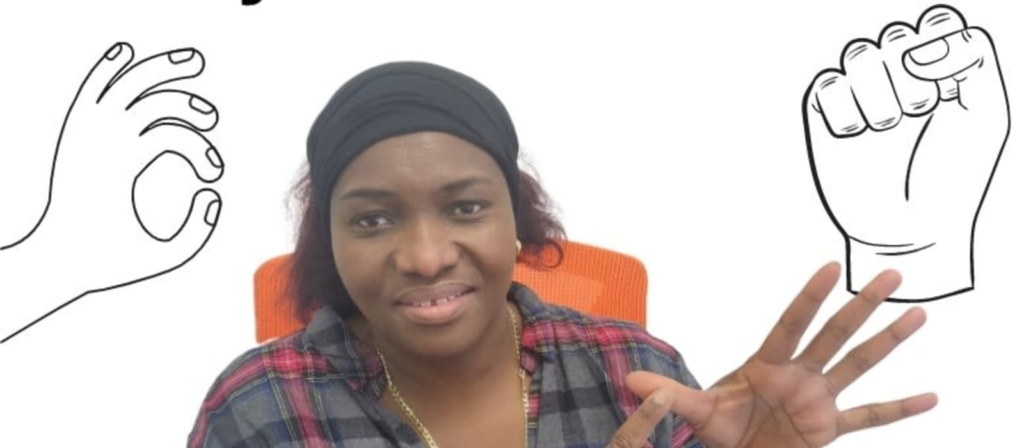 News
Deaf Awareness Week 3rd-9th May 2021 – Raising Awareness Via Zoom
Almost 10 million people in the UK are currently living with some form of hearing loss.
3rd – 5th May 2021 marks Deaf Awareness Week. Deafness and hearing loss can mean different things to different people. People use various words to describe how they view their own hearing loss. Suffering with hearing loss may have an impact on someone's mental health, so it is important we use this week to raise awareness.
At Sandwell African Caribbean Mental Health Foundation, we have been introducing some British Sign language into our regular Zoom interactions with our service users. During the pandemic – we have continued to use Zoom as a form of communication, not only to keep fit but also to build on topics we feel passionately about. We feel this is a more personable way of keeping in touch with our clients (given the current lockdown restrictions).
Here is what one of our service users had to say about interacting via Zoom:
" I am finding the Zoom calls something to look forward to each week and as a way of social interaction with Kuumba staff and other service users. I am finding learning BSL with Chloe and Edith interesting and fun especially as it's something I had learned a little of many years ago and I am still interested in. I value this as an incentive to learn new things, as learning new things is good for the brain, health and general well-being."
In true Kuumba (creativity) style, we have worked hard to think of new ways to support our community in the safest, most effective way.
To entertain our service user's throughout the pandemic, we have been offering weekly zoom calls that focus on a different subject every week. The zoom calls are facilitated by project worker, Chloe & Postgraduate student, Edith.
These sessions are designed to teach and be a positive part of their week.
Samples of what our weekly topics are as follows;
Catch up & Covid-19
Mindfulness
Black History Quiz
Introduction to British Sign Language
Discussion about Diabetes & Healthy Choices
Employability
Edith, a qualified Level 3 BSL (British Sign Language), and Masters level student social worker has been a great addition to our team and a very insightful Co-host for the Zoom calls. Every week we make time to introduce a new sign for the group to learn, as we believe in the importance of communicating to people from all walks of life. Introducing Sign Language to the group has been the highlight of our Zoom sessions and has been well received by our service users as they laugh, learn and practice a new skill.