Celebrating Black History Month – Saluting Our Sisters – A Message from Our CEO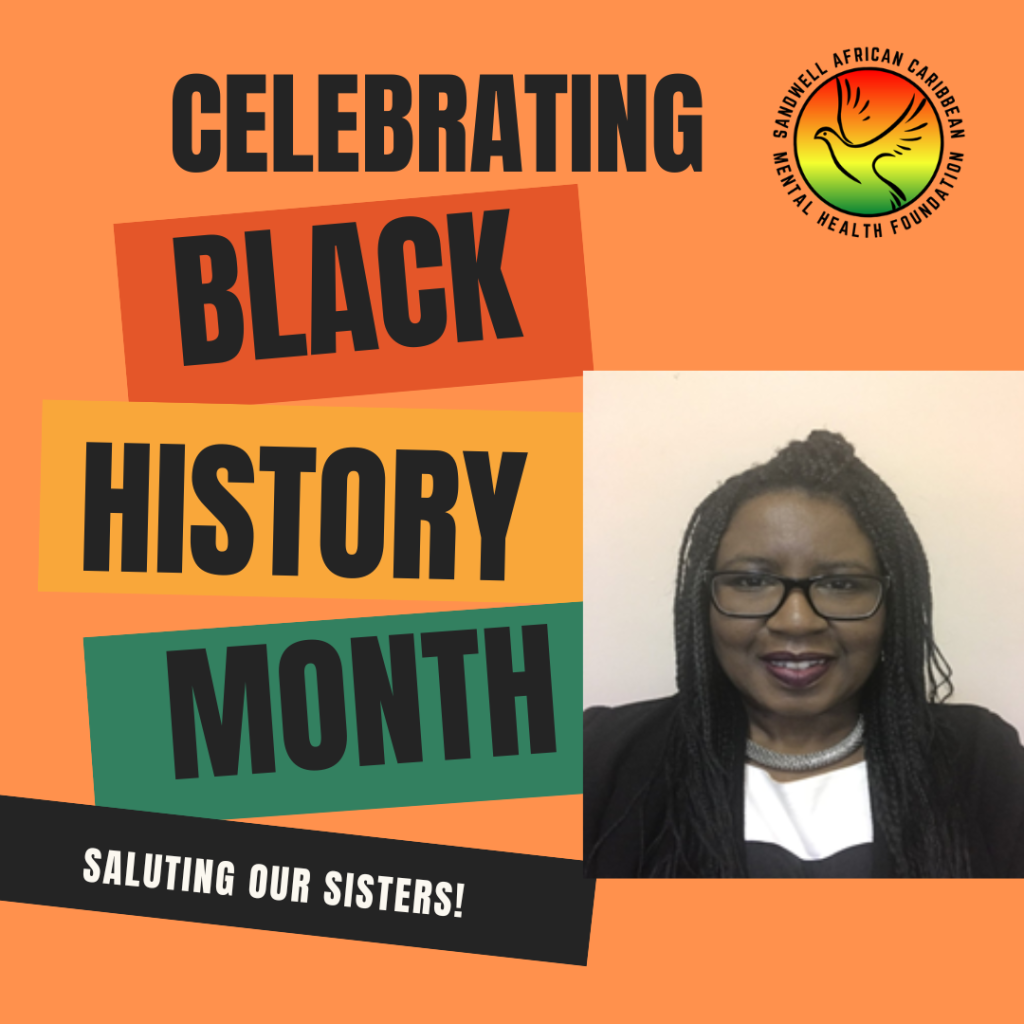 Black history month presents as a short period during the year when schools and certain of our local and national institutions look to remember the multifaceted ways in which the Black African diaspora has contributed to economic, social, and political change across the globe. The theme this year for Black History month is 'Saluting our sisters' and as a Black woman and leader of Sandwell African Caribbean Mental Health Foundation charity it is a great opportunity to highlight what Black history month means to me this year.
I believe that Black history should be embedded within British and world history rather than separated and discussed during one month of the year. My historical experience as a child born in Birmingham of Caribbean immigrants, I was not able to have conversations at school about the history of the Black diaspora and its place in British history. This was a time when racism was overt and not very hidden as it can be today.
As conversations, knowledge, and awareness of the contribution of Black people in the UK increases this will hopefully pave the way for greater Black history inclusion in the school's curriculum and for councils and other statutory bodies to take seriously the need to hear the voices of the Black communities through meaningful engagement, co-production, and a partnership approach to inform the implementation of strategies to reduce current levels of inequality across a range of sectors.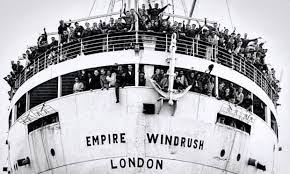 Black history for me especially this year is special as we remember to mark the 75th year since the Empire Windrush pulled into Tilbury docks. It is never too far from my mind the experiences of my mother and my maternal grandmother who as part of the Windrush generation travelled to the UK from St Kitts in the Caribbean.
Empire Windrush image - https://www.rmg.co.uk/stories/windrush-histories/story-of-windrush-ship


Their migration here was no mean feat.  The contrast in the new environment compared to the lush lands from where they came was stark.  The reception they endured was hostile and opportunities to grow, be a part of something bigger than themselves and to flourish was impeded by a Nation ill prepared to receive these foreign incumbents.  Like many Caribbean families who settled in the UK at that time, the women became the family cornerstone who were quietly and potentially unwittingly doing the doings to keep the family and the wider Caribbean immigrant community together, nourished and developing the means to survive and hopefully thrive too.
These were the characters of the women I grew up with, sometimes strong, always diligent and incredibly resourceful. These women have helped me to become the woman I am now and today I am proud to be the Chief Executive Officer of Sandwell African Caribbean Mental Health Foundation. I commenced my time with SACMHF in 2002 and I knew that to make a difference I would need to draw on those character traits I recognised in my mother and my nana.
Acknowledgment
My work with our charity has enabled me to work with some talented women a couple of whom I will mention briefly. One lady who is no longer with us was also part of the Windrush generation and came to the UK on a scholarship to train as a nurse. Yvonne worked with me as a user consultant, she became a board member, and her knowledge was broad and cavernous. We would occasionally listen to the afternoon play on Radio 4. I often listened to her tales of life in Montego Bay, Jamaica before it became a popular tourist resort. Her contribution to the work of our charity was huge and we will be forever grateful to her.
I work with a lady who despite her own personal health challenges supports her relative with mental health issues. As a Carer she is a member of our Carers group. She supports her mum to grow vegetables on her allotment and this year she managed to find the time to lead our gardening project Time to Grow. I salute these sisters who selflessly contribute to their communities and take nothing in return. These sisters will and have left a legacy and a template for young people to follow.
Managing SACMHF
In managing SACMHF over the years I have experienced many rebuttals as to why our organisation exists. These rebuttals had become so common place and laced with hostility that at times I fell short of my usual upbeat self and sometimes failed to put forth a reasoned retort. I knew I was being silenced. However, the reality was more than me being silenced it was Black people with mental health problems, their families and their carers who were being silenced.
The fact that systemic racism and the aligned disproportionate numbers of Black people whose experience and outcome when engaged in mainstream mental health services are more likely to be worse than the wider population and which led to the founding of SACMHF in 1994 was not in some people's minds reason enough".

"I feel massively privileged to work for SACMHF. To be allowed to be part of people's lives when they are at their worst is more than humbling. I can use the authority I have in my role to support women, to help them to grow, to celebrate their worth, recognise their individual narratives, recognising their potential, seeing the beauty in their skin tone, acknowledging their place in history and being by their side as they navigate their personal journeys".
I believe that the Sandwell African Caribbean Mental Health Foundation (SACMHF) symbolises the fortitude and feistiness of the Windrush generation, and their descendants and I hope that in my work I can demonstrate these qualities. SACMHF has faced its own tribulations and struggles; yet like the Caribbean migrants two generations ago, and SACMHF's founders almost three decades ago, SACMHF has remained unwavering in its insistence to speak up for people from the African Caribbean community who have and are still experiencing issues with mental health but most importantly, Kuumba as our charity is affectionately known, works passionately to create partnerships with its users to have their needs met as well as their desires and aspirations, so they too can contribute to their community. This represents my thoughts on Black history this year.