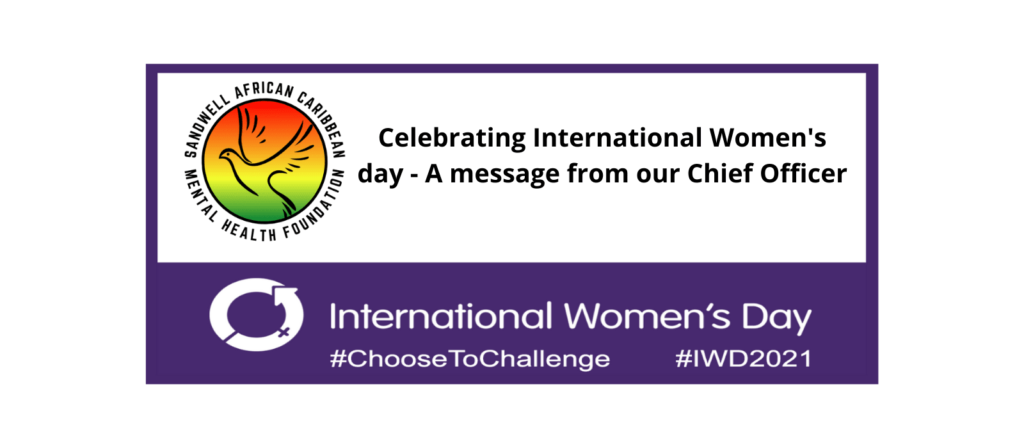 News
International Women's Day #ChooseToChallenge
When I think about what International Women's Day means to me my thoughts immediately switch to the resilient, tenacious and sassy female women who I grew up around; my mother, my late maternal grandmother and lots of aunties! My Caribbean heritage is at the heart of my being and as such I have always and forever will be in awe of my mother and my nans travels from sunnier climes, St Kitts & Nevis, to the UK; them being part of the Windrush Generation.
Their migration here was no mean feat. The contrast in the new environment compared to the lush lands from where they came was stark. The reception they endured was hostile and opportunities to grow, be a part of something bigger than themselves and to flourish was impeded by a Nation ill prepared to receive these foreign incumbents. Like many Caribbean families who settled in the UK at that time, the women became the family cornerstone who were quietly and potentially unwittingly doing the doings to keep the family and the wider Caribbean immigrant community together, nourished and developing the means to survive and hopefully thrive too.
These were the characters of the women I grew up with, sometimes strong, always diligent and incredibly resourceful. These women have helped me to become the woman I am now and today I am proud to be the Chief Officer of Sandwell African Caribbean Mental Health Foundation. I commenced my time with SACMHF in 2002 and I knew that to make a difference I would need to draw on those character traits I recognised in my mother and my nan.
I soon began to work with a lady who used our services at the Kuumba Centre, the late Yvonne Perry. She too was part of the Windrush generation and came to the UK on a scholarship train as a nurse. Yvonne worked with me as a user consultant and her knowledge was broad and cavernous. We would occasionally listen to the afternoon play on Radio 4. I often listened to her tales of life in Montego Bay, Jamaica before it was a popular tourist resort.
Sometime after this I began working closely with another lady who used our services, the late Sharon Hanson. Sharon worked with me to deliver training workshops at Birmingham University to improve the knowledge of Social Workers around culturally responsive mental health services. Sharon later took on a paid role as an Outreach Worker at the Kuumba Centre. Sharon was so talented that she used her multilingual skills and translated for our group of African born service users for whom French was their first language.
In managing SACMHF over the years I have experienced many rebuttals as to why our organisation exists. These rebuttals had become so common place and laced with hostility that at times I fell short of my usual upbeat self and sometimes failed to put forth a reasoned retort. I knew I was being silenced. However the reality was more than me being silenced it was Black people with mental health problems, their families and their carers who were being silenced. The fact that systemic racism and the aligned disproportionate numbers of Black people whose experience and outcome when engaged in mainstream mental health services are more likely to be worse than the wider population and which led to the founding of SACMHF in 1994 was not in some people's minds reason enough.
The reason why I am revealing these stories is because all of us women faced enormous challenges in our life yet we eliminated those barriers. We faced a crisis of confidence yet we overcame. Never again will I allow anyone to make me doubt my reality and the reasons why I do what I do.
I feel massively privileged to work for SACMHF. To be allowed to be part of people's lives when they are at their worst is more than humbling. I can use the authority I have in my role to support women, to help them to grow, to celebrate their worth, recognise their individual narratives, recognising their potential, seeing the beauty in their skin tone, acknowledging their place in history and being by their side as their navigate their personal journeys.
On International Women's Day 2021 take a moment to think about what you can do to help women and girls to rise. It matters not your job or your age or your religion or your gender. What matters is the power that lurks inside you. There is always something we can do to elevate women and girls. I am so thankful to have been raised by the sassy women whose stories should be told to empower and encourage other women and girls to overcome adversity and be the best they can be. I salute all women across the continents. I implore you all to be brave, be bold and shout from the roof tops "I AM WOMAN".